Car rearview mirror sticker is water proof, rain proof, anti-reflective and anti oil stain, It can solve the trouble of not seeing the rearview mirror on rainy days.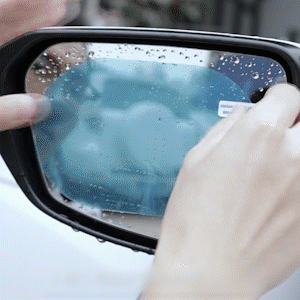 High Quality Materials—rearview mirror coating films has three PET protective membrane and one nano-adhesive layer hydrophobic effectively, improving driving visibility. it has high transmittance, resistance to strong light reflections, reduce dazzle light, relax visual fatigue.
Scope Of Application—Universal designed Rear View Mirrors dimming Protective Film for Car, SUV, Truck, Trailer, moto, helmet etc., which fits all standard size of side mirrors and side Windows.
Additional Protection—protecting your side wing view mirrors from unwanted scratches, smears, dust and dirt; recommending 2 to mirrors, 2 to side windows corresponding side viewing spots.
Easy To Install—water repellent film just take a few minutes to install it to your rearview mirror directly, squirt a little water on the mirror, install the protective film to the mirror and adhere it, Please Use the scraper to clean the inside air and ensure no air bubbles after installation.